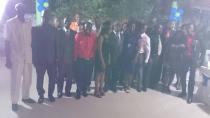 The Company of Water Utilities of Saint-Marc, Sesam, subsidiary of Lysa in Haiti, is celebrates its eighth year.
This pioneering Public-Private-Partnership (PPP) water project in Haiti has been set up in October 2009.
Over the past 8 years, Sesam has been able to face challenges, to overcome difficulties and to report promising results from year to year.
Hugues Valéry Victor, General Manager, expressed his thanks, congratulations and encouragements.
This anniversary was the opportunity to bring together the whole team, for a very pleasant moment.