You are here
Delegated management of water supply and sanitation Acuagyr, Colombia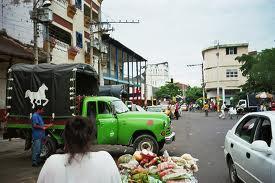 Localization:

Girardot and Ricaurte, Colombia

Funder:

Banks and Private investors
Summary
The cities of Girardot and Ricaurte are situated from 120 km at the West of Santa Fé de Bogotá. They represent the epicentre of an important tourist and urban development thanks to its privileged geographical situation and to adequate communication structures that allow to attend wealthy visitors coming from Bogotá during weekends and holidays.
Description:
Historic background
"ACUAGYR S.A. E.S.P." (below called ACUAGYR), mixed joint-venture utility company, has been constituted in 1958, with public contribution representing more than 99% of its capital. Its activity consists in providing water supply and sewerage services in the jurisdiction area of the Municipalities of Girardot and Ricaurte (Colombia), with the possibility to offer these services to other municipalities that could require it.
In July 1998, Acuagyr launched a public invitation to tender to groups of private companies interested in acquiring 70% of the social capital of Acuagyr, by the means of a capital increase. According to the terms of reference, the group of investors had to include a «Strategic associate», viz. a company specialised in the operation of water supply and sewerage services. Moreover, the Strategic Associate had to guarantee the completion of the operation and technical assistance contract signed between himself - or another company selected by him- and Acuagyr.
The proposal presented by Lysa, as Strategic Associate, together with a Colombian company - Ax2 has been selected.
In September 1998, the group subscribed 70% of the shares of Acuagyr and signed the Operation and Technical Assistance contracts.
Description of the existing system at the beginning of the project
N° of subscribers water supply : 23.000
N° of subscribers sewerage : 21.000
Production of the water treatment plant : 54.000 m³/day
Wastewater treatment : absent
N° de km. water supply network : 190 km.
N° de km. sewerage network : 110 km.
N° of employees : 170
Description of the pattern ACUAGYR SA ESP Equity participation on the 30/9/98
| | |
| --- | --- |
| Municipalities of Girardot and Ricaurte, Government of Cundinamarca | 30 % |
| Lysa (Strategic Associate) | 19 % |
| Ax2 (other private associate) | 51 % |
In total, 70 % of the capital of ACUAGYR is private.
Description of the Operation and Technical Assistance Contract
Operation of Acuagyr including selection of personnel - variable payment (% of incomes and operation margin).
Technical assistance

Operation : program to reduce unaccounted-for-water, supplying and installation of Commercial Management, Management and Accounting Software, training program, procedure handbooks, ...
Engineering  : master plan and water supply and sewerage networks simulation, simulation of the aquifer and hydrologic studies, geographical information system, centralised technical management system, …
Management indicators
(main objectives of the operation and technical assistance contract)
| Years | Unaccounted-for-water (%) | Billing collection (%) | Sewerage coverage (%) | Water supply coverage (%) |
| --- | --- | --- | --- | --- |
| 0 | 52% | 80% | 79% | 70% |
| 2 | 41% | 86% | 87% | 72% |
| 3 | 37% | 89% | 91% | 73% |
| 4 | 33% | 91% | 93% | 77% |
| 5 | 31% | 92% | 95% | 81% |
| 6 | 29% | 92% | 97% | 85% |
| 7 | 27% | 92% | 98% | 88% |
| 8 | 26% | 92% | 98% | 91% |
| 9 | 25% | 92% | 98% | 94% |
| 10 | 25% | 92% | 98% | 95% |